Meet Our Club President!
Pam Nolen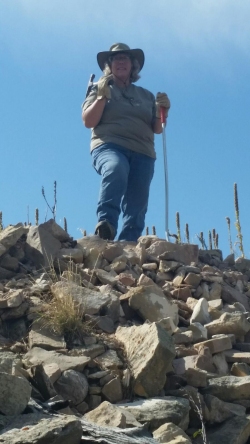 Pam Nolen joined the club in 2014. She has been a rock collector for many years and one of the first things she learned how to do in the club was the art of lapidary-cutting and shaping of stones. She has been doing that ever since and currently assists teaching new members. She calls it her Zen time and recommends everyone at least try it. Among her other responsibilities at the club, she is in charge of the Silent Auction at the show each year. This is the major fund raiser for the club and helps to keep the lights on and the equipment running as well as just being a fun way to work with the other members in the club and meet new rock hounds. Her hobbies include lapidary, wire wrapping and jewelry making of all types. Currently she is working at improving her silversmithing skills. She loves camping and traveling with her husband around the US looking for rocks and just being outdoors. She has a Bachelor Degree in Fine Arts from UTA, Arlington TX. If you'd like to contact Pam, you can write her via e-mail.
Check Out Our Club Positions!
Positions Menu:
Club President | Club Secretary | Club Treasurer |
1st VP of Field Trips | 2nd VP of Programs | Show Chairperson
Sunshine Chairperson | Dealer Chairperson | Newsletter Editor
Shop Foreman | Web Manager