Meet Our Shop Foreman!
David Nolen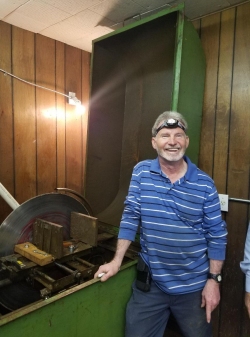 David Nolen joined the club in 2014 when his wife talked him into it. It was a good thing, since then he has added to his collection of petrified wood. The first field trip the club took when he joined was to collect petrified wood and he has been hooked ever since. His favorite part of the shop is the slab saws. He maintains them and cuts rocks for any members that have rocks to cut. His favorite part of the hobby is to see what is inside the rock whether it is his own or someone else's. Currently he is rebuilding a slab saw at home to add to the Rock Room he also built so that he and his wife can spend more time on their hobby. He does other maintenance around the shop as well and has help from several that volunteer their time and knowledge to fix things. His other hobbies include woodworking, going to garage sales and flea markets and repurposing his finds. He also enjoys camping and traveling around searching for rocks. If you'd like to contact David about shop hours, use of the saw, or classes, please send him an email!
Check Out Our Club Positions!
Positions Menu:
Club President | Club Secretary | Club Treasurer |
1st VP of Field Trips | 1st VP of Programs | Show Chairperson
Sunshine Chairperson | Dealer Chairperson | Newsletter Editor
Shop Foreman | Web Manager